Curt officially broke the curse! After today, he has successfully hiked three straight days with us on a long trail. Well done, Curt!
Day 3 of IAT had a pretty good mix of landscapes for the viewing and terrain for the hiking. We started our day finishing the last four miles of flatland that is the Gandy Dancer. Curt, Brianna & I hit the trail while Shauna and Rick let their bodies have a day off. As it turns out, Shauna wants to hike some normal days and camp in the forest with us after Penny and Curt head back to Michigan.
A Wisconsin Interagency truck was driving down the Gandy Dancer as we neared the end of that stretch. The guy driving the truck stopped to say hello, explained that his job is to drive down the Gandy periodically and do trail maintenance on fallen trees or whatever else might pop up. We explained our hiking plan, he wished us luck and we went back to the walking.
Trail after exiting the Gandy was back into the woods we are used to. With the deep woods come the bugs, even on cool days like today. 2020 taught me to wear a buff around my neck for emergency face mask purposes. Since then, I wear them for bug control when hiking and sun protection around my neck while doing yard work. I had to pull my blue NCT buff around my face more than once to reduce the amount of exposed skin the flies would have to attack.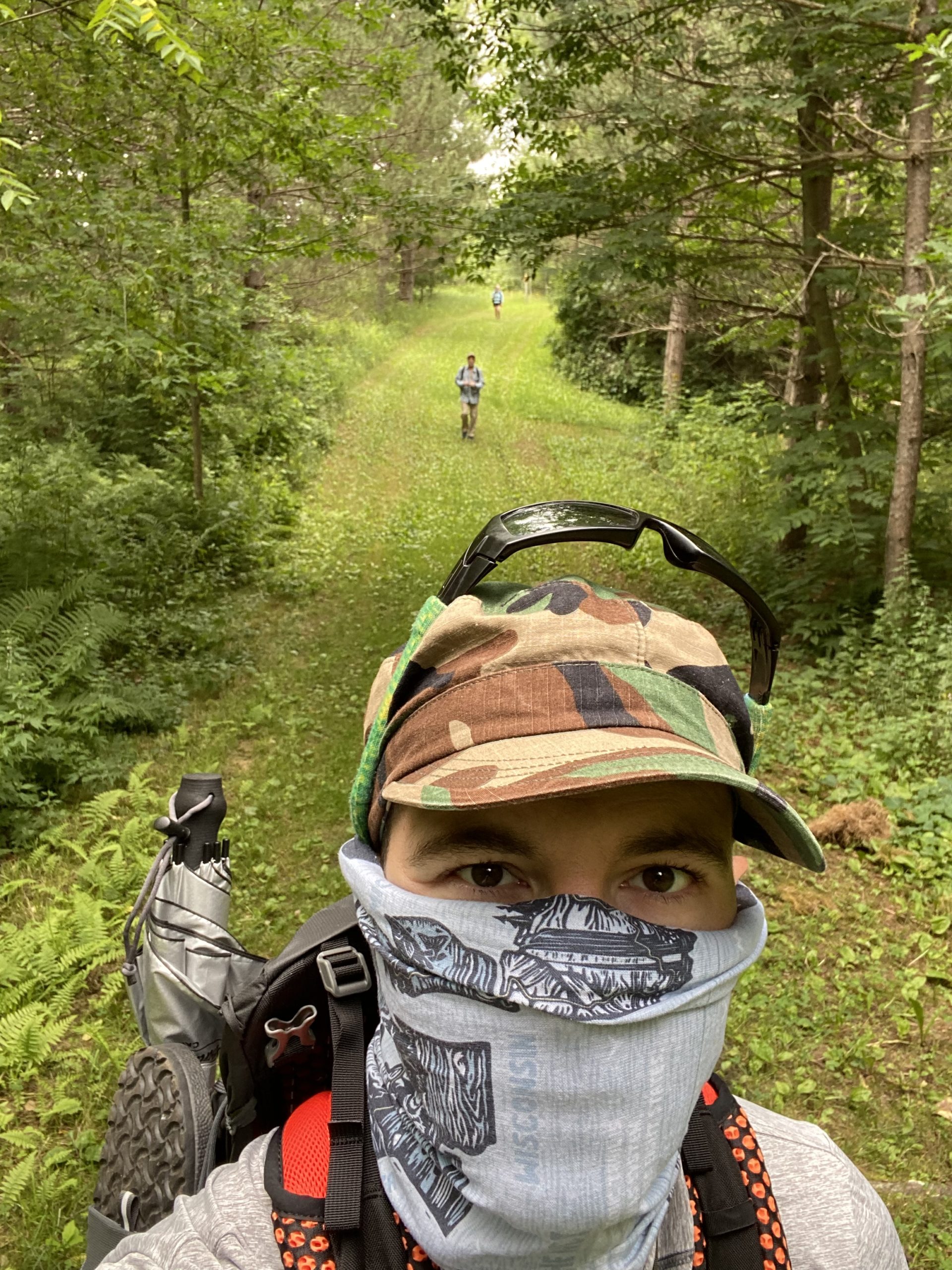 We walked by cornfields and ccc pine trees, by beautiful Straight Lake Dam and dozens of Garter snakes, up some steep inclines and over many marshy boardwalks.
IAT advertises June/July/August as the worst months to hike the trail. Ticks, black flies, mosquitoes, the whole nine yards. Brianna found a tick yesterday but our weather has been accommodating and we've got no complaints… yet. All of the cracking black soil and man made board walks over dried up marshes reminded me of the perils related to hiking during the wet Spring and Fall seasons. The trails were easy for us because they were dry, would cause soggy feet and a slower pace when wet. So far so good for July on the IAT.
After the hike was not so serene. Without going into too much detail, everyone was still here when I went to bed @ 9pm. By midnight, Rick had packed up all of his things and his truck was gone. Not my circus, not my elephants.
One last warm up day before we start hitting 20 milers. 12.4 miles tomorrow. I'll be giving myself a break and carrying the lightest weight I can in my pack.